Learn Authentic Yang Style Tai Chi Chuan in Vancouver, BC
Little Mountain Tai Chi Club

The Little Mountain Tai Chi Club offers instruction in the traditional Yang style of Tai Chi Chuan in Vancouver. The Yang style is known for its benefits of health, meditation, and self-defence.
Focus of the program is the correct methods of body movement according to the principles of Tai Chi Chuan. The curriculum includes the Yang Long Form as well as Saber, Sword, Push Hands, and understanding the applications of Tai Chi Chuan as a martial art.
The location for the classes of Yang style Tai Chi Chuan is in east Vancouver at the Templeton Park Pool, 700 Templeton Drive, Vancouver.   Click here to see Map
---
Instruction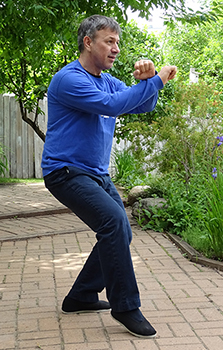 Guy Tomash has been practicing the Traditional Yang style of Tai Chi Chuan for over 30 years, and has been teaching Tai Chi classes in Vancouver for more than 20 years. He began his instruction in 1983 from the Alberta Tai Chi Chuan Cultural and Recreation Association under the direction of Master Mak Ying Po, and received most of his training with one of Master Mak's senior students, Andy Wong.
The lineage of Mak Ying Po is the Yang style of Tai Chi Chuan from Yang Cheng Fu, a 3rd generation master of the Yang Family. It was through one of Yang's senior students, Tung Ying Chieh, that Mak Ying Po learned Tai Chi Chuan.  Tung Ying Chieh was among the top disciples of Yang Cheng Fu, and one of the most famous exponents of Yang style Tai Chi.
Guy Tomash is thankful for his opportunity to learn this wonderful art, and is dedicated to sharing and carrying on the traditions of Yang style Tai Chi Chuan as he was taught.
---
Classes
The Tai Chi classes are held twice a week on Mondays and Thursdays from 7:00pm – 9:00pm.  The Traditional 108 movement Long Form is taught, as well as other aspects of the Yang style of Tai Chi Chuan curriculum such as Push Hands, Saber, and Sword. There is no need for special clothing or equipment.
Classes have students of mixed levels of experience, and are on an on-going basis. You can start the Tai Chi classes anytime and progress at your own speed. Class sizes are small with attention to individual correction and detail. Expect to work hard at class and practice at home to achieve the most benefit that Tai Chi Chuan has to offer! There is also a free practice session on Sunday mornings for intermediate and advanced students.
New Classes Begin On Thursday, January 4th, 2018!
For more information about Yang style Tai Chi in Vancouver, please contact Guy Tomash by Email, or by phone at 604-671-3579.
To register, please visit the Templeton Park Pool office or call 604-718-6252 to register by phone with a credit card. Please register early.